12 Apr 2008 04:42 Africa/Lagos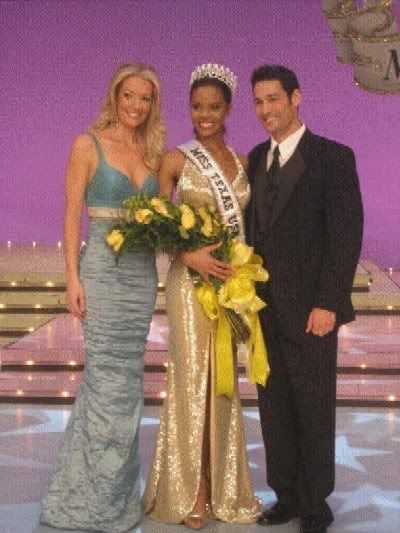 Miss Texas USA Crowned Miss USA(R) 2008 During Live NBC Telecast on April 11th
LAS VEGAS, April 11 /PRNewswire/ --
This evening, during one of the year's most exciting live television events, a star-studded panel of judges chose Miss Texas USA,
Crystle Stewart
, as MISS USA(R) 2008. Donny and Marie Osmond hosted the 57th Annual MISS USA Pageant from the Planet Hollywood Resort & Casino in one of the world's most electrifying cities, Las Vegas.
Ms. Stewart completed her degree in Consumer Science and Merchandising at the University of Houston. She founded and runs her business "Inside/Out" which aids young women in building self-esteem and volunteers with many organizations in the community. She won a silver medal in the relay at Jr. Olympics and is a fourth generation educator.

The judging panel for the 2008 Miss USA(R) Pageant included: Heather Mills, contestant on season four of "Dancing With the Stars"; Rob Schneider, star of "I Now Pronounce You Chuck & Larry"; Joey Fatone, host of "The Singing Bee"; Kristian Alfonso, entrepreneur and star of NBC's "Days of our Lives"; Olympic gold-medal swimmer Amanda Beard; Christian Siriano, this season's winner of Bravo's hit show "Project Runway"; San Diego Chargers linebacker Shawne "Lights Out" Merriman; celebrity hairstylist Ken Paves; Kelly Carlson, star of "Nip/Tuck"; founder and CEO of Planet Hollywood International, Inc. Robert Earl and Vanity Fair's celebrity journalist George Wayne.
Throughout the two-hour event, the contestants competed in three categories: swimsuit, evening gown and interview. During these competitions, the "Top Five" finalists were selected before the crowning. Rachel Smith, MISS USA 2007, crowned her successor at the conclusion of the two-hour primetime telecast, where rock band Finger Eleven performed their hit song "Paralyzer" before an estimated worldwide viewing audience of more than 250 million.
Final Results:
First Runner Up: Miss Mississippi USA, Leah Laviano will assume the
duties of MISS USA 2008 if the titleholder is named
MISS UNIVERSE 2008 or for some reason cannot fulfill
her duties.
Second Runner Up: Miss New Jersey USA, Tiffany Andrade
Rest of Top Five: Miss Pennsylvania USA, LauRen Merola
Miss Oklahoma USA, Lindsey Jo Harrington
Rest of Top Ten: Miss Massachusetts USA, Jackie Bruno
Miss Missouri USA, Candice Crawford
Miss Tennessee USA, Hailey Laine Brown
Miss Indiana USA, Brittany Mason
Miss Florida USA, Jessica Rafalowski
Rest of Top Fifteen: Miss Minnesota USA, Kaylee Unverzagt
Miss Rhode Island USA, Amy Diaz
Miss South Carolina USA, Jamie Hill
Miss California USA, Raquel Roxanne Beezley
Miss Utah USA, Julia Bachison
MISS PHOTOGENIC USA(TM) "Hot Shots" Award: Miss Alaska USA, Courtney Erin Carroll. The general public voted on www.nbc.com for the delegate who exemplifies beauty through the lens of a camera. She was awarded a $1,000 cash prize.
MISS CONGENIALITY USA(TM) Award: Miss Ohio USA, Monica Day was awarded a $1,000 cash award. The award reflects the respect and admiration of the delegate's peers, who voted for her as the most congenial, charismatic and inspirational participant. She was awarded a $1,000 cash prize.
The MISS USA(R) 2008 prize package includes: the official Miss USA Mikimoto pearl tiara; 2 Year Scholarship from The New York Film Academy; custom evening wear wardrobe by Scala, designed by Sherri Hill; national multi-media advertising campaign and a complete denim wardrobe from YMI Jeanswear; a 4 day / 3 night all-inclusive vacation at any of the 28 Westgate Resorts located in the U.S. including the Planet Hollywood Towers in Las Vegas; make-up from Kett Cosmetics; shoe wardrobe from Nina Footwear; year supply of hair care products and tools from Farouk Systems; swimsuit wardrobe from Syrup Swimwear; a New York City apartment for the year of her reign, including living expenses; personal appearance wardrobe and stylist consultation throughout her reign and the opportunity to represent the USA at the 2008 Miss Universe pageant in Vietnam.
The MISS UNIVERSE(R), MISS USA(R) and MISS TEEN USA(R) Pageants are a Donald J. Trump and NBC Universal joint venture. Utilizing its nationwide grass roots infrastructure, the Miss Universe Organization is committed to increasing awareness of breast and ovarian cancers. By forging relationships with organizations committed to research and education, such as Susan G. Komen for the Cure and Gilda's Club, Miss USA is armed to educate women today.
PRESS CONTACTS:
Lark-Marie Anton / Esther Swan / Joyce Lee
The Miss Universe Organization
(212) 373-4982 / (212) 373-4870 / (212) 373-4685
Dara Busch
Rubenstein Public Relations
(212) 843-8079 / (908) 672-3384 cell
PRNewswire -- April 11, 2008
Source: Miss Universe Organization
Web site:
Miss Universe